2021 Wine List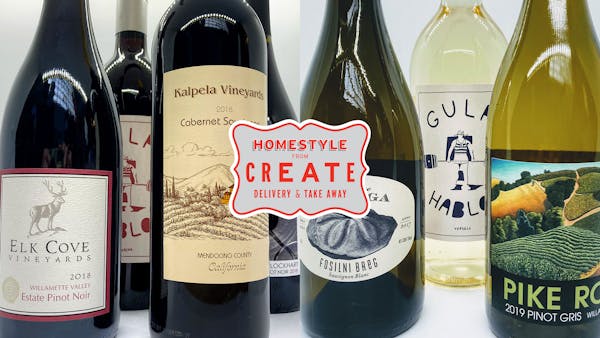 We are now offering wines for sale as add ons when you order Homestyle meals. Below is the 2021 wine list with service/tasting notes and bottle prices.
We have partnered exclusively with Erin from New France Wines to curate this years wine list. Erin has created a special and unique offering, with wines that will pair well with our weekly Homestyle menus.
Whites
Gulp Hablo Verdejo (2019) ~ Castilla-La Mancha, Spain (1L)
$27
Tasting notes: Light, crisp, Sauv Blanc like. Refreshing, citrus notes, great minerality, very tasty and not pungent like a NZ Sauv. Great with salads and shellfish but even better on a hot summer day w friends
Pairing: all things seafood, but also killer with salads, grilled pork or cured meats
Domaine Ciringa Fosilni Breg Sauvignon Blanc (2017) ~ Štajerska Slovenija
$20
Tasting notes: Expressive, intensely spicy bouquet of pineapple and pear, also some paprika, smoky-mineral taste with puristic seriousness. Aromas of peaches, dog rose and citrus. Mineralic and puristic in taste. Fine acidity structure.
Pairing: White Fish, Scallops, Light Pastas
Pike Road Pinot Gris (2018) ~ Willamette Valley AVA
$20
Tasting notes: Excellent, full body. Strong notes of honeysuckle, green apples, and lemon zest dominate while more subtle hints of nutmeg and spice linger distantly. It's crystal clear, clean and zesty, just a perfectly quaffable white wine.
Pairing: Olives, roasted nuts, salumi, and seed-based crackers all pair well with Pinot Gris. The acidity of the wine cuts the fats of salumi, nuts, and olives, while the citrus complements seeds and salt of crackers and breads.
Reds
Gulp Hablo Garnacha (2019) ~ Castilla-La Mancha, Spain (1L)
$27
Tasting notes: Lighter-bodied, dry. Bright ruby in color with a nose of fresh crushed cassis and raspberry. Tart fruit, violets, white pepper, and a touch of terroir on the palate and finish, bursting with red berry fruit, dry with hints of dried herbs and spice. Certified biodynamic farming.
Pairing: all things meat - beef, poultry, pork, also tomato based pasta dishes.
Lockhart Cellars Pinot Noir (2018) ~ California
$23
Tasting notes: Complex aromas of black tea, smoke, black cherry, plum, and wood introduce this wine. The flavors are bigger and fresher-fruited than the nose suggests. Black and red cherries are both there, along with red currants, and touches of earth and stone on the finish.
Pairing: charcuterie, cheese, chicken/turkey, fish-full flavored (salmon/tuna), ham, hors d'oeuvres, just for cocktailing, mushrooms, pork, roasted root vegetables, vegetables.
Willamette Pinot Noir, Elk Cove (2018) ~ Willamette Valley, OR
$40
Tasting notes: Raspberry and dark cherry lead into woodsy aromas of mushroom, violet and thyme. Full and very fruit-forward, the wine finishes long with cardamom and warm baking spices.
Pairing: excellent paired with pork tenderloin, duck, cedar plank salmon, and just about anything with wild mushrooms.
Kalpela Vineyards Cabernet Sauvignon Mendocino (2018) ~ Mendocino County, CA
$20
Tasting notes: This vintage displays a rich brick red color and deep aromas of boysenberry jam, plum, black pepper and vanilla with hints of toasty oak. Uplifting flavors of dark chocolate, black cherry, sweet wood and a subtle note of earthiness combine to give this full-bodied Cabernet Sauvignon a generous mouth-feel. Rich full tannins and balanced acidity lead into a long, lingering finish.
Pairing: Enjoy with a juicy steak or any rich dish like beef short ribs or roasted lamb. Also pairs with a grilled burger with medium bodied melted cheese.
Bubbles
Torre Oria Brut Cava ~ Spain (1L)
$18
Tasting notes: It offers a wealth of complex, elegant flavors: savory peach, tropical fruit and spring flower tones slip easily down the thirsty gullet. Supple and medium-bodied throughout, Torre Oria exits with a long, lingering finish that makes the imbiber beg for more. Refreshingly dry.
Pairing: appetizers offer some of the most rewarding accompaniments to Torre Oria Brut. Salmon mousse, stuffed mushrooms, sautéed oysters, foie gras, and sushi constitute some of our favorite starters with this wine. As entrées, white fish, scallops, steamed crab legs, and light poultry dishes offer outstanding companionship; alos soft ripened cheese.