Main content starts here, tab to start navigating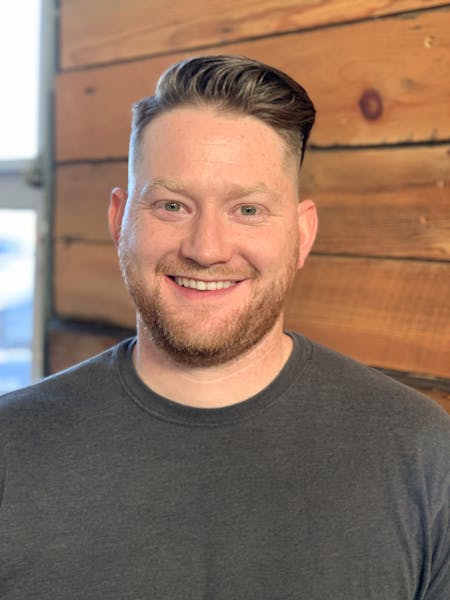 Corey Meier
Head Chef/Partner
Corey is a graduate of the Arts Institute Minneapolis (A.I). Through his college tenure, Meier worked under Chef Rick Kimmes at the Oceanaire Seafood Room in Minneapolis, where he mastered the grill and sauté stations on the line. After graduation, Meier moved on to manage The Legends Club kitchen at Target ® Field. After his second season closed with the Twins, Meier, too eager to wait out the off-season lull, pursued new exposure to the culinary world.
Meier met with Philip Dorwart, of Create Catering and Dining Studio seeking options. Meier was aware of Dorwart's history as the former chef/owner of Table of Contents, reviewed as ahead of his time with award-winning dishes.
While at Create, Meier has flexed his creative talents with recipes under Philip's leadership and tasting in an autonomist style. Corey soon began managing off-site fine dining events. Within a year of hire, in 2011, he was promoted to Chef de Cuisine three years later he was promoted to head chef and made partner.
Chef Meier's inspirations with cooking are based on classic techniques while incorporating Create's mission towards local and sustainable sourcing.
Two lengthy solo backpacking tours through Europe allowed for Meier to gain a philosophy he applies to the challenges of catering. He speaks of going with gut feelings, making decisions, and being creative to solve variables he encounters with the best means possible to execute a goal. "Sometimes [off-site] I invent a technique that I wouldn't have traditionally used," said Meier. Possibly, he could be referring to the time he hauled 1000 pounds of product and equipment to a house to cater, but forgot a whisk for the béarnaise sauce. "You've just got to punt at that point," he said.
Today, Meier can be found doing chef demonstrations at Create's open-kitchen The Dining Studio, curing prosciutto and fresh pastas for upwards of 100 guests at a time. Under Dorwart's steady guidance, Meier heads off-site banquets from 12 to 350 people managing a staff of over 40 workers.
"People become chefs for that instant gratification of seeing people enjoy something that they made with their own hand," said Meier. "I am face to face with the people I cook for, and I love seeing that [moment].