Valentine's Day Dinner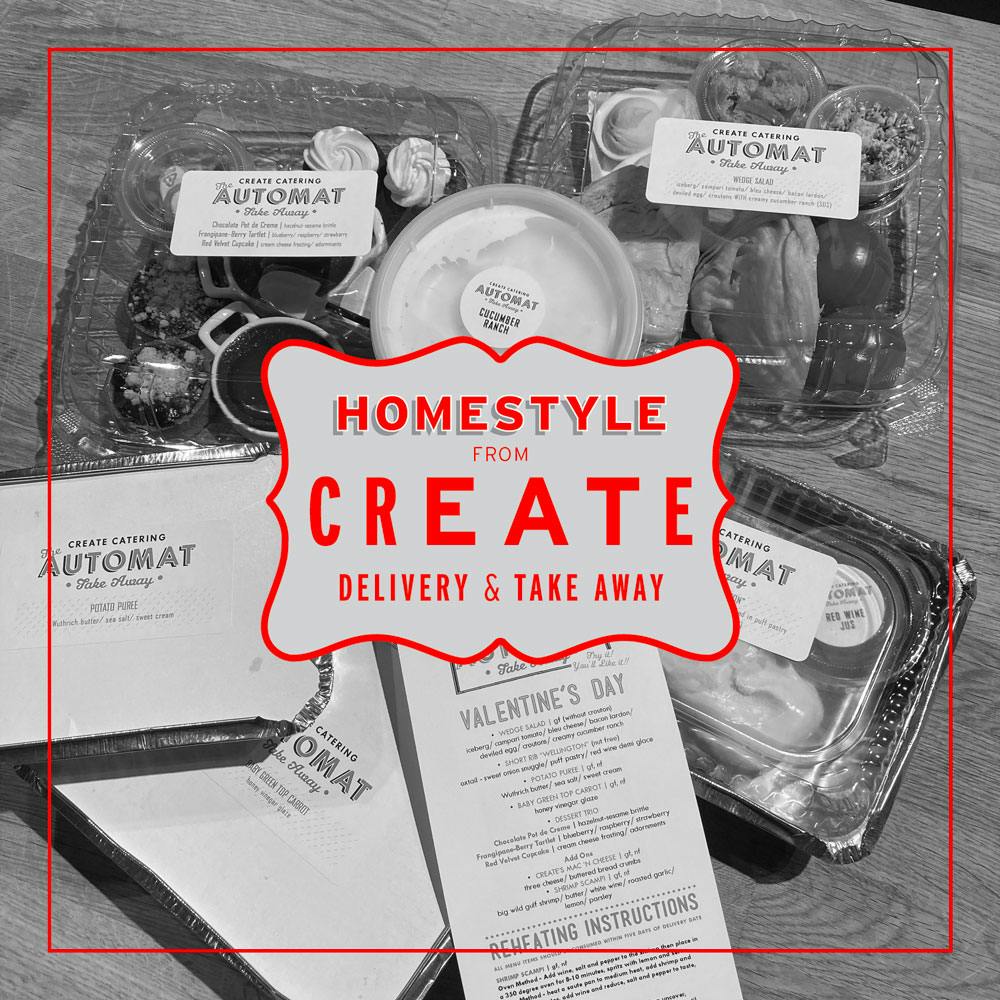 VALENTINE'S DAY 2022
$140 | DINNER SERVES TWO
Place order by 8:00 pm – February 10th
Course One
Honeynut Squash- Coconut Bisque | crispy squash/ sesame-pepita chili crisp
Course Two
Cress & Hearts of Palm Salad | roasted beets/ Cara Cara orange/ bleu cheese/ toasted pistachio/ citrus vinaigrette
Entree Course
Breast of Moulard Duck from Au Bon Canard
- Lightly smoked/ crispy skin/ citrus sweet and sour jus
- Lobster Gnudi with Gruyere
- Green Beans with Meyer Lemon
Dessert Course
S'Mores Cake | dark chocolate cake/ chocolate mousse/ graham cookie/ torched meringue/ salted caramel
Add Ons
Curated Wine(s) Selection Available
•••
DELIVERY & PICKUP AT THE DINING STUDIO
Create offers both home delivery & pickup options to each order. Create staff will be making deliveries directly to you. Deliveries will be made between 12:00 pm and 2:30 pm on Monday February 14th. We cannot guarantee an exact time as deliveries vary depending on routes and order capacity.
All pickup orders can be gathered at The Dining Studio in NE Minneapolis from 1:00 pm – 3:00 pm Monday February 14th.DON'T WAIT... We Will Sell Out!.
All kits come with easy to follow instructions to make you look like a Rock Star!!!
•••
Heating Instructions
SQUASH - COCONUT BISQUE
Add bisque to medium size sauce pan. Heat on medium low heat; 5-10 minutes until warm. Use you own style to compose crispy bits topping and drizzle.
DUCK
350 degrees oven uncovered. Check temp at 15 min; pull with internal temp at 130-135 Medium Rare, 140-145 Pink, 150-165 cooked through. Let duck rest for 8 minutes. Slice with skin side down on cutting board for ease. Plate with warmed sauce. Enjoy!
LOBSTER GNUDI
Preheat the oven to 350 degrees; cook for 15-20 minutes
until hot.
GREEN BEANS
Preheat the oven to 350 degrees; keep covered and
warm beans through for 15 minutes.